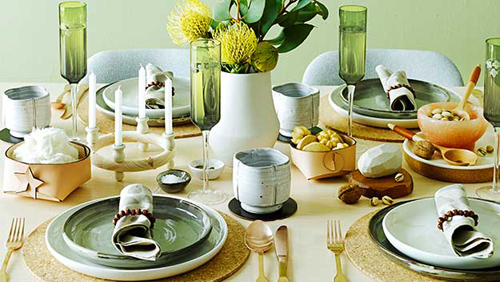 A dining table laid with love and care sets the scene for an affair to remember. Take these expert tips from stylist Imogene Roache and Villeroy & Boch's Isabelle von Boch to achieve magical table settings.
For added visual richness, use tactile materials such as leather and cork.
Choose raw and matt finishes for larger tableware items such as vases and serving bowls. Glassware, cutlery and glazed ceramics introduce hints of festive sparkle.
When choosing a color palette, look to nature – think eucalyptus green, sandy tones and salmon pink. Use whatever is in bloom in the garden to assemble a fresh, hand-picked centerpiece. Keep arrangements low to encourage conversation and scents subtle to avoid overwhelming the food.
Nuts are not only delicious nibbles for the table but they are also a great decorating tool in an organic scheme. Fill small bowls and place them at intervals along the length of the table. Blue and greens form a perfect palette for the Australian summer. They team well with white and organic materials such as wood.Desserts always look better when served in sparkling crystal or glass bowls.
Placements and other napery are important mood setters.
Layer colored entrée plates over basic white dinnerware. You can even mix and match designs (solid colors, stripes, prints and Florals). The secret to success is a unifying color palette. It's perfectly fine to mix and match stemware, especially when entertaining large groups. Use lots of candles for ambience, especially for evening soirees. via–ninemsn