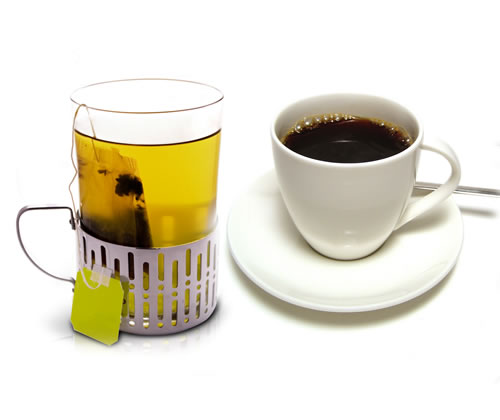 When people come to choosing between tea and coffee, the best answer they want to sip green tea and also want to enjoy the strong taste of coffee. Scientists have found that individuals who enjoy a daily cup of coffee were 20 per cent less likely to have a stroke development chance compared to those who shunned the drink. And those who drank at least four cups of green tea in a day also benefited from a similarly reduced stroke risk development.
But as the popular beverages are thought to protect against the often fatal condition in different ways, the study suggests regularly drinking both could provide the greatest benefit. Prolonged researchers looked at the drinking habits of almost 84,000 Japanese adults over 13 year of period. This is the first large scale study to examine the combined effects of both green tea and coffee on stroke risk factors. The particular study published in "American Heart Association's journal Stroke", found that the greater amounts of coffee or green tea consumed lower their stroke risks.
The report found that combination of higher green tea and coffee consumptions contributed to the reduced risk of stroke as an interaction effect for each other which are quite amazing. Sip green tea even in lower quantities, green tea helped to protect against the condition and reduce the chance of stroke by 14 percent.
Participants in the study were 45 to 74 years old and were free from cardiovascular and cancer disease, and all the findings were well adjusted to take into account age, lifestyle and sex factors like smoking, alcohol, weight, and exercise factors.
Green tea drinkers in the study were more likely to exercise as compared to non-drinkers, while coffee drinkers tended to be younger, and were more likely to smoke and take exercise than the green tea drinkers. Although it is unclear how green tea affects stroke risks, scientists believe a compounds known as catechins may provide some protection to blood vessels what are responsible for stroke.
Several chemicals in coffee are believed to provide a boost to human health, including caffeine and chlorogenic acid, which researchers suggest could help cut stroke risks by lowering the chances of developing type 2 diabetes. According to the researchers, both drinks also helped to protect from the risk of heart attacks, regular action of drinking coffee, green tea largely benefits cardiovascular health because it partly keeps blood clots from forming in vessels.
Research last year found the more coffee you drink, the less likely you are to die from a number of different ailments, including respiratory disease, heart disease, diabetes and infections but not support to prevent cancer. Researchers at the "National Cancer Institute" and "National Institutes of Health" said they could not establish whether coffee was the cause of a lowered risk of death, but there was definitely a link related with coffee. This means the greater the amount of coffee participants drank, the lower their risk of dying.
With all the above mentioned facts it is suggested that there should be a proper regular intake of coffee and green tea intake. Sip green tea and coffee to protect your hear.