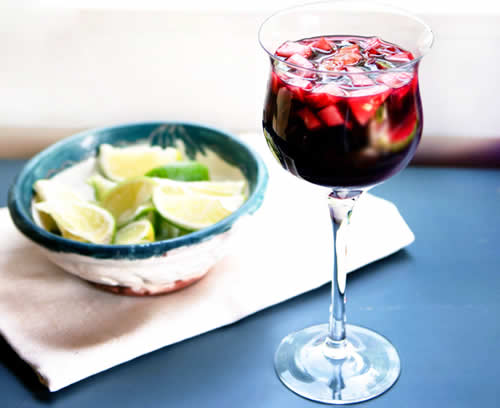 Here's the only Sangria recipe you'll need for summer. Make sure to make with a low tannin red Spanish wine if possible.
Ingredients:
1 cup orange juice
1/4 cup brandy
3-4 Tbsp. superfine white sugar, or to taste (you can also make a simple syrup with regular sugar using equal parts water and sugar)
1/4 cup Triple Sec
1.5L bottle fruity, medium-bodied red wine, chilled
1 large orange, washed, thinly sliced, and circles cut in half
1 lime, washed and thinly sliced
1 small apple, finely diced
Method:
Whisk together sugar and orange juice. Add brandy, triple sec, and wine. Stir in fruit. Refrigerate for at least 2 hours. Serve, over ice, if desired.